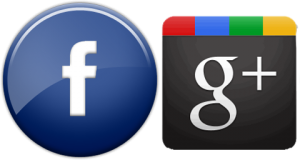 The world just got a new social networking website a few days back Google+. You might want to shift to the new service but most of the people the one know are still on Facebook. So developers have come up with a cross-browser plugin with whose help you can combine the feeds of facebook with Google+.
The plugin is really easy to install. After installation you would be able to see a facebook icon besides the home icon on your Google+ account.The plugin allows you to update your status directly from Google+ Stream.  While working with it I found it only shows you the Most Recent feeds from facebook and you don't have any option where you can customize your feeds and it also shows you the Google+ Stream way below the Facebook feeds.
If we neglect these bugs in the plugin then it is a great  way to connect to your facebook as well as Google+ friends at one place.
The Plugin is supported on Google Chrome and Mozzila Firefox. There are some built-in security issues with the IE which prevented them from supporting Internet Explorer.
You can download the plugin from here.