Apple devices have a feature called AirPlay in them which allow you to stream audio as well as video (from newer devices) to some AirPlay enabled device such as an Airport Extreme. But buying an airport device and also a separate set of speakers unique with it just to stream music seems useless. To get around this condition all you need is an old windows machine. You can disguise your windows machine as an Airplay device and the mac or your iphone will wirelessly send the audio to the windows machine.
To do this all you need to do is download ShairPort4w from here. Download the zipped files extract it and run it on your windows machine. Once up and running come back to your Mac and while pressing alt/option key and clicking the sound symbol in the notification area and then select Shairport4w.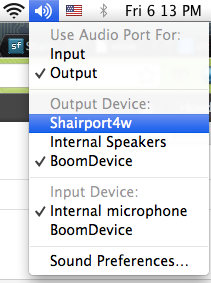 Turn on your iTunes and play any song. You will notice the the audio is been streamed to the PC wirelessly.