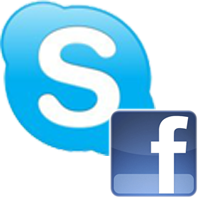 Skype had already launched its FaceBook integrated version from which you could import your facebook news feed, comment, like your friends updates. Earlier you were only able to message to your friends but now skype goes further. It also has introduced the Facebook chat. Skype + Facebook means now you will be able not just calling your Facebook friends but also having video chats with them at the same time on being on facebook.
Skype launches this feature only in its 5.5 version which is still in its beta stage. So it might be unstable on some fronts but makes a great tool for people to collaborate on internet. As any new messenger it takes up a lot of memory on the system and tends to crash some times.

In my experiences it proved to be damn slow as it uses Internet Explorer to access facebook and I use IE6 and facebook doesn't goes well on it. But if you are the owner of a newer version you will face no problem.The interface designed by skype for Facebook is also very cool and one ends up looking at more updates from friends than  originally on facebook.
One of the good things about skype 5.5 is that you can see all your facebook friends in a single place even if they are not online. This proves to be good for some one like me who has do go through so much pain to have all the contacts on a single page.
One thing that I missed while typing on skype messenger is the "Friend is typing" instead you see a pencil moving. A new thing that I personally liked was hearing the skype pinf tone whenever any of your Facebook contact pinged you. It also reads your friends mobile numbers from there profiles and shows under Call Mobile. One thing I don't understand if it can read your mobile number then why it doesn't reads your skype name while it allows you to search your facebook friends on skype by searching them through their email ID's.So that means you can't call anyone on your facebook friends list directly but you would first have to add them as you sykpe contact and then you wwould be able to call them.  One of the drawback of skype 5.5 is that it you can't browse your facebook while you are chatting you can either chat or view yout Facebook profile.
You can go and download you copy of skype 5.5 beta from here